Our guest blog this month is from Andrea Macdonald, Specialist Education Lead at NHS Lothian. We asked her to tell us a little more about the FutureNurse Pilot that NHSLothian has been running this year. What is the Future Nurse Project?
The Futurenurse project is a national pilot that is aimed at supporting young children at primary school to develop an aspiration and interest in the nursing profession. As part of this the campaign is also focussed on the challenge of gender imbalance within nursing and our need to attract more men into the profession. We have significant workforce development need across healthcare in the UK and focussed activity like this in the early years of education is an important and valuable part of our workforce development and planning enabling activity.
How did it come about? A senior nurse called Colin McNulty working in NHS Grampian had already started some local work on a project to promote nursing to early years children in nursery and P1-2. As part of this he had started to develop resources to use in the classroom and the manufacture of some children's tunics which would be exact replicas of the current NHSScotland uniform. NHS Lothian became a partner to support and develop the pilot to a wider geographical area and to map in partners and strategy related to Developing The Young Workforce and national work within the NHS on youth employment.
What schools were part of the pilot and have you worked with any other settings? We worked with 7 schools across the Lothian area and 7 pilot schools in Grampian also took part. For the pilot, schools received a large scale nursing engagement activity to a P2 class supported by clinical nurses and educators. School children took part in various nursing activity based on the top 4 reasons young children attend hospital. A key element was the provision of children's replica NHS Scotland nursing tunics so that boys and girls could take part equally in activity challenging existing bias that out of date replica dresses and hats etc can contribute to.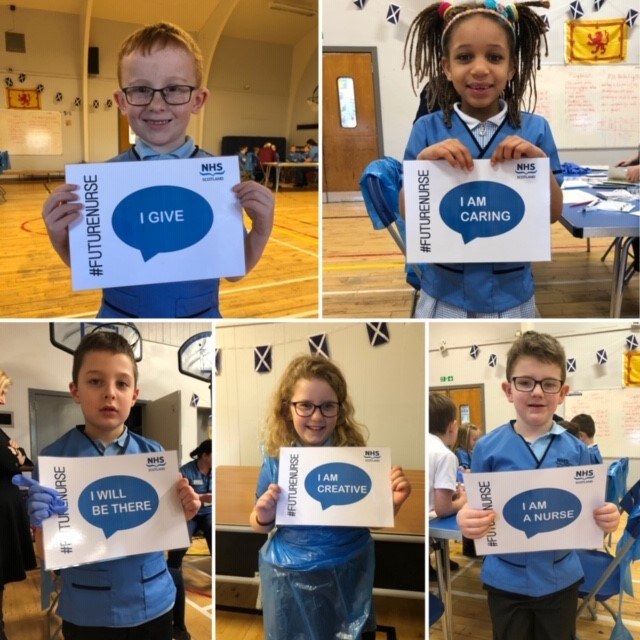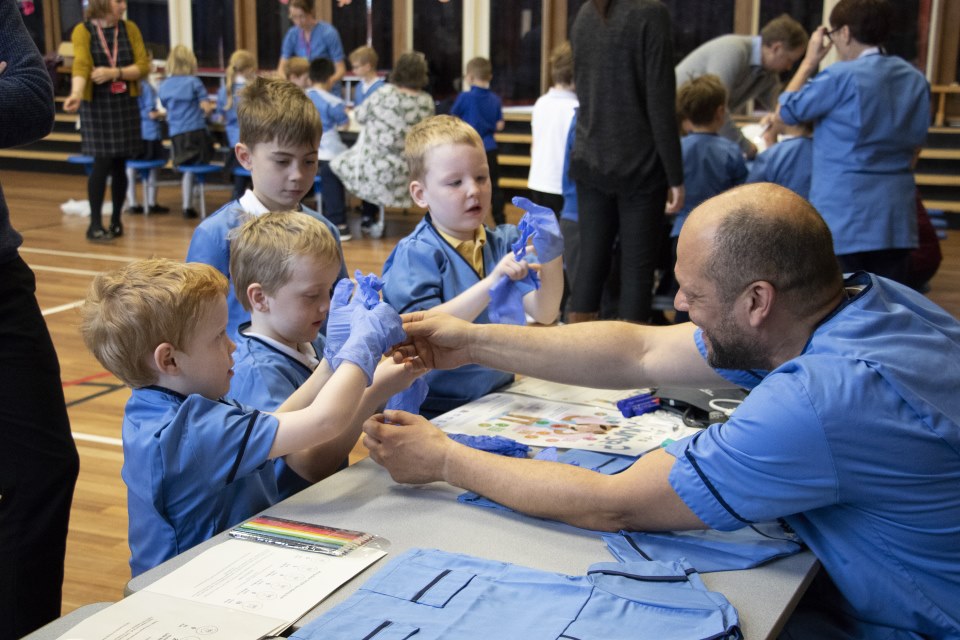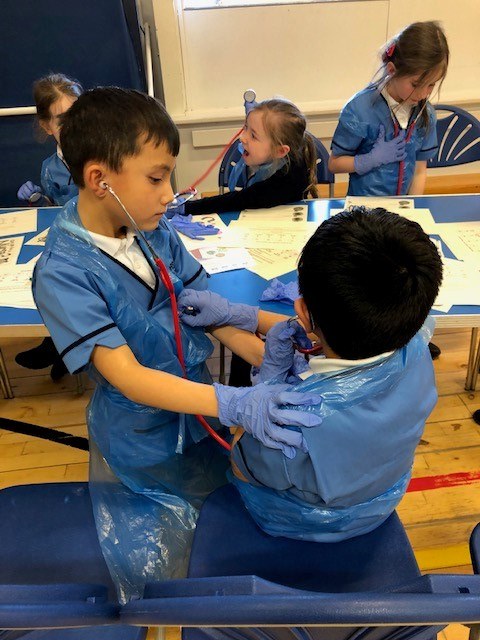 What impact are you hoping to achieve? Why is this important to NHSlothian? We are passionate about developing inspiring and innovative career activity that will support children in primary school to get the best start developing their possible aspirations and interests. We want to attract more young people into nursing and specifically to challenge and address gender imbalance within this. We want to engage with schools and support activity, all pilot schools received resources and tunics as part of the project.
Have you worked with any other partners?
We could not have delivered wide reaching and large scale activity like we did without a significant collaboration of partners that we work with on all of our youth engagement and employment strategies. Our partnerships are a key part of our ambition to provide sustainable impact. For this project we worked closely with NHS Grampian, Scottish Govt Offices of Workforce, DYW and Nursing, DYW Regional Boards for Edinburgh/Mid/East and West Lothian, NHS Education Scotland and Education Scotland.
What was the feedback from clinical practitioners? Clinical staff loved being part of activity like this – inspiring our next generation is now part of everyone's role and having an opportunity to support something like this really appealed to our Nurses and our wider organisation.
What are you scale up plans? Since the pilot we have produced resources which can be found on the NHS Scotland Careers website and is accessible to everyone. We have been successful in securing additional funding through the SG Nursing Office which enabled us to send out a resource of tunics to all health boards in Scotland. The contact for each health board will link to DYW Regional Boards regarding local arrangements with schools. In Lothian we are working with Education Scotland and DYW to put a structure in place of local resource schools can access and resource within the Health Board. 2020 is Year Of The Nurse so we are also looking at ways we can engage newly qualified nurses in NHS Lothian to help support FutureNurse activity next year. 2020 will be a great opportunity to continue this great work – one uniform at a time!
For more information visit https://careers.nhs.scot/